As promised, today (this hallowed eve) we announce the winners of the MOO Christmas and Holiday Card Caption Competition.
We had a great 12 days of festive images and seasonal messages and it put us thoroughly in the mood for glad tidings, eggnog and presents! Bring on the Holidays, we say.
Thank you all for taking part, coming up with creative captions and getting into the seasonal spirit.
It was a tough job picking the best captions; there were so many great submissions for each image, but we are very pleased with our special limited edition winner's pack of Christmas and Holiday Cards, which is now on sale
here!
We will be contacting the winners with their prizes next week.
And here they are...
IMAGE 1
acwmaiden
"You want me to do WHAT??"
ken wilkinson
"Ok,who added the Santa `Clause` to my contract"?
IMAGE 2
Julian Wolf
And I always thought angels would be kosher.
Happy Holidays anyway!
Monica Gaffney
Peace. Love. Bacon.
IMAGE 3
ollka
Felt, don't melt!
Casey Palmer
Frosty the snowman knew

The sun was hot that day,

So he said, "Have a Merry Christmastime

Before I melt away."
IMAGE 4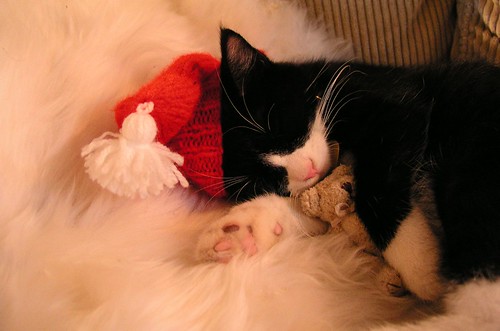 Heather
Santa's coming. Pretend you're asleep.
Dianna
Waiting up for Santa is hard work!
IMAGE 5
sharon
Even santa has felt the effects of the economic downturn…
Marian
Merry Christmas, Deer.
IMAGE 6
Erika
And Vader said unto the Clones, "You too shall have a Christmas bonus."
Irit
Being the only Jewish stormtrooper certainly has its perks.
IMAGE 7
Kitty
"He was well and truly trapped this time. Hopefully, Rudolph would be able to rescue him before it was too late…"
Lisa
Santa was starting to wonder what kind of kid lived in a glass ball, anyhow…
IMAGE 8
Marti
Have a (snow) ball this Christmas!
Marian
It's Snow Fun without you. Wish you could be here for Christmas.
IMAGE 9
Fiona
The Smiths knew they'd outdone the whole street this year, and they didn't care if they blew the National Grid doing it!
Lucy
Maureen wished she had checked that all the bulbs were working before she wound them around the tree.
IMAGE 10
Hazel
Batman immediately recognized Robin at the Christmas Fancy Dress party.
J daniel
On this beautiful Christmas day
I send you a robin chirping all the way,
Merry Christmas! Merry Christmas! he'd say
& fill your lives with joyful rays.
IMAGE 11
Becca
May love keep you warm this holiday season.
Dylan Burnett
There's no business like snow business.
So stow business and lo!
You will witness
A fine Christmas,
With divine hours in the snow!
IMAGE 12
Rebecca
Have a holly jolly Christmas!
Theazy
Berry Christmas!
Happy Halloween and Happy Holidays!